BRINGING EXPERTISE TO YOUR INDUSTRY
Benefit Account Consultant
Elizabeth joined LaPorte as a Benefit Account Consultant fall of 2021.  Elizabeth brings with her seven years benefit experience working with both small and large group.  Prior to entering the insurance world Elizabeth was in the banking industry for eight years where she was the recipient of Bank of America's Award of Excellence.  Elizabeth enjoys building relationships with her clients by talking with the employer and employees helping to answer questions to make sure they have a solid understanding of the plans they have or are going to purchase.   Integrity is important to Elizabeth so doing the right things matter and making sure her clients stay well informed is a must.
When Elizabeth has some free time, she enjoys weekend getaways, live music, movies, stand-up comedy, hiking and camping. Football season is a way of life for her, but the utmost importance to her are her friends and family.  She also has a soft spot for rescuing senior dogs.
Benefits Account Manger
Karen joined the Benefits team in 2020 bringing with her 15 years of experience in the industry.  Karen has worked small group but also has experience with large group/self-funded.  Karen enjoys the relationships she has built with her clients and works in partnership with them to understand their needs.  Karen prides herself on her customer service skills, and ability to listen and problem solve when necessary.  Karen attended San Francisco State earning a BA in Industrial/Organizational Psychology.
During her free time, she enjoys camping in the Pacific Northwest, gardening and setting out on new adventures to places she has never been and finding new things to do.  She is also a cat lover and is the proud owner of 3 who love to keep her on her toes.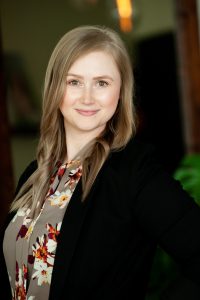 Benefits Account Manager
Laura joined LaPorte in 2020 as a Benefits Account Manager bringing with her 15 years of industry experience.  Laura knew the insurance industry was for her, so she started her career right out of high school, working in broker settings both on the sales and service side.  Laura will be working with LaPorte's small group clients, helping them to review and market their renewals, and advising the group of their benefit options.  Laura feels it is important to form a partnership with her clients, not only to listen and understand their needs, but to be there as a reliable resource.
When Laura has free time, she enjoys exploring the Pacific Northwest.  She is an avid thrifter, and enjoys music, art, reading, and hiking.
LAPORTE IN THE COMMUNITY
2020/21 have been unprecedented. We shifted our focus a bit to really look for the needs that are out there during this crisis and how we can support the frontline workers right now.
Click here to see the Portland Business Journal's listing of Largest Commercial Insurance Agencies.