In an effort to help improve fleet safety, LaPorte is offering incentives to those customers that equip their vehicles with the Mobileye® Collision Avoidance System. Those incentives can be in the form of lower insurance premiums and a reduced cost for the Mobileye System.
Mobileye reduces the risk of collisions by warning drivers with visual and audible alerts – in real time – providing critical seconds needed to avoid or mitigate a collision. The System does this by performing advanced driver scene interpretations to identify other vehicles, pedestrians, bicyclists, lane markings, and speed limit signs that may be in the vehicle's path.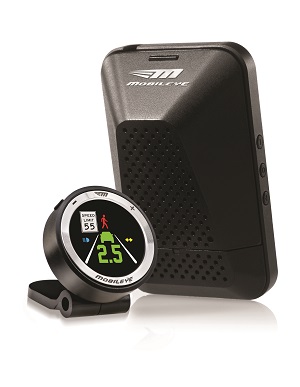 Mobileye includes five safety features in one system:
Forward Collision Warning, including Urban Forward Collision Warning
Lane Departure Warning
Headway/Following Time Monitoring & Warning
Pedestrian and Cyclist Collision Warning
Speed Limit Indicator
Equipping your fleet with Mobileye is simple:
One-time installation
Can be installed in almost any vehicle
Very little driver training is needed
Seamless integration with telematics
Improve the safety of your fleet and your bottom line with the Mobileye Collision Avoidance System and LaPorte.