2020 has been an unprecedented year. We shifted our focus a bit to really look for the needs that are out there during this crisis and how we can support the frontline workers right now.
The LaPorte Charity Committee has helped two organizations so far.
---
First, was providing meals to Asante Medical COVID Unit employees in Medford, Oregon. One of our employees has a special tie to this team as her daughter is one of the nurses there. We were so happy we could help!
Meredith Braker's daughter, Mikayla, is a nurse at Asante Medical in Medford, OR.  She and her team work in the COVID unit and are on the frontline so we wanted to support them during this challenging time.
Below are the pictures Meredith received from her daughter Mikayla.  A BIG thank you to Kari Lackstrom & Meredith for coordinating these efforts! We have more treats in store for them – breakfast/dinner to feed the night shift!
Asante Medical COVID Unit
CHIPOTLE DINNER 6/13/20
Mountain Mike Pizza Dinner  7/11/20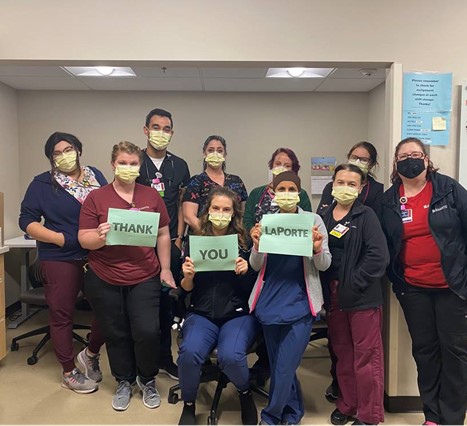 Birch Community Services
Second was Birch Community Services. We had planned something entirely different then pivoted during COVID. We asked what they were in need of and they responded – Toiletries! A few of the Charity Committee Team Members were able to deliver and make an impact in our community
LaPorte's  2020 / 2021 Charity Committee
Virginia Boulant, Kari Lackstrom, Debbie Harvey, Teresa Gaunce & Lyndsay Kooistra
---