2020/21 have been unprecedented. We shifted our focus a bit to really look for the needs that are out there during this crisis and how we can support the frontline workers right now.
---
We would like to introduce "SnowCap" whose mission is a philanthropic organization created in the mid 1960's to provide food, clothing, advocacy and other services to those in need in East Multnomah County.  Every good act COUNTS.  The Charity Committee has found a way to  give back while social distancing.  We are kicking off our community support with a No Contact Donation Event, April 27 through May 21, 2021. This event is to assist SnowCap with keeping their food pantry stocked with necessary items for all community members in need.

SnowCap was created to discover the real needs in the area, communicate them, and assist residents, churches, and community leaders to meet those needs individually and cooperatively.  The organizat
ion adopted a philosophy that "SnowCap will cross lines of race, religion, national origin, and economic status, hoping to coordinate and act as a barometer, correcting conditions which call for improvement."  This organization has been in existence since the mid 1960's and created by pastors along with 25 other area churches to help fill a void, thus Suburban Neighborhoods Operation Witness Community Action Program was created.  SnowCap provides food, clothing, advocacy and so many other services to those in need in East Multnomah County

SnowCap Community Charities is a philanthropic organization created to provide food, clothing, advocacy and other services to the poor.
---
Birch Community Services
LaPorte Charity Committee Delivered Toys to Birch Community Services so that their families could shop for gifts for the holidays. We collected and sent over $1,500 worth of toys for this local nonprofit.
LaPorte Charity Committee 2020 continues working with Birch Community Services. November 23rd the team met at Birch's Northeast Portland location to drop off more toiletries, food and a board game for the holidays! Over 200 pounds of donations were made to this deserving local nonprofit.  Kari Lackstrom, Debbie Harvey, Teresa Gaunce, Lyndsay Kooistra and Lyndsay's son Daniel.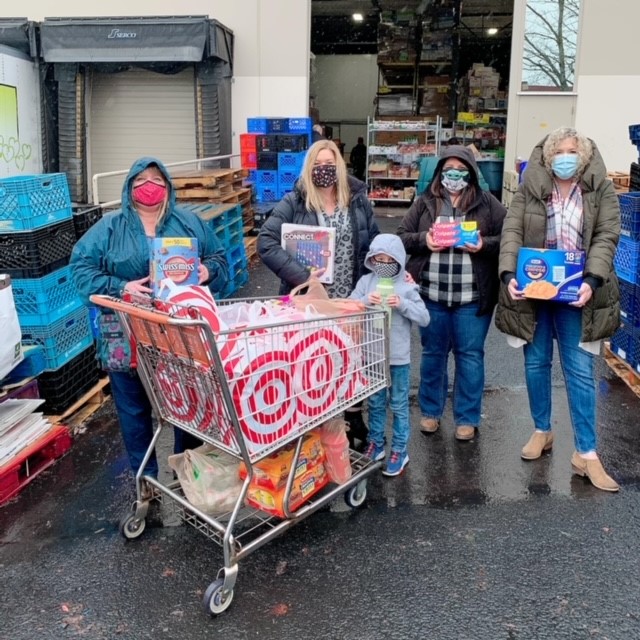 We had planned something entirely different then pivoted during COVID. We asked what they were in need of and they responded – Toiletries! A few of the Charity Committee Team Members were able to deliver and make an impact in our community
For the holidays this year we're going to continue helping Birch! https://www.birchcommunityservices.org/
We are going to purchase more toiletries so they can have them prior to the holidays to have in their "store."
LaPorte's  2020 / 2021 Charity Committee
Kari Lackstrom, Debbie Harvey, Teresa Gaunce & Lyndsay Kooistra
---